Welcome to India's FIRST & ONLY accredited 100% online Home Tuition Educator  for Grade 3-Grade 8
Why would your child go outside your home for tuition when India's most unique online home tuition in India, is coming home to your child? A tutor that brings together a 'real' international curriculum delivered on an easy-to-use platform, a wide range of extracurricular activities including extra features from compulsory subjects like counseling, story-telling, cultural exchanges, personality-development classes & moral studies, post-classroom learning content by Gyanaj, in a safe and engaging learning environment with 3-4 hours of regular online classes 5-6 days a week in small class sizes of 20 students/class, where you child gets dedicated attention, your child will be getting so much more than any other tuition could provide. Plus, your child will be studying in India's most multicultural classrooms comprising students from all parts of India.


It is time you focus on your own work and leave your child's tuition in trusted hands because in Gyanaj you will not have to sit in wait for your child to come back home as the learning management system is powerful enough to inspire children to learn easily and independently. No matter what your child's career goal is, Gyanaj would give enough time to your child to do well in studies and simultaneously devote time to other goals, hobbies, and interests. We are not traditional tutors offering online classes, we are a 100% online home tutor, FIRST & ONLY accredited online school in India. We are building the future of online home tuition in India and your child deserves to be an active participant in this journey!

Gyanaj is India's First and Only Recognized Online School in partnership with Argasia Education pvt.ltd.
Gyanaj is the world's most affordable accredited online home tuition provider for students from Grade 3 to Grade 8 & special Classes For Grade11&12,  NEET & IIT JEE. Gyanaj provides online classes because of disruption in normal life due to the pandemic. Instead, IT IS A FULL-FLEDGED 100% ONLINE HOME TUTOR!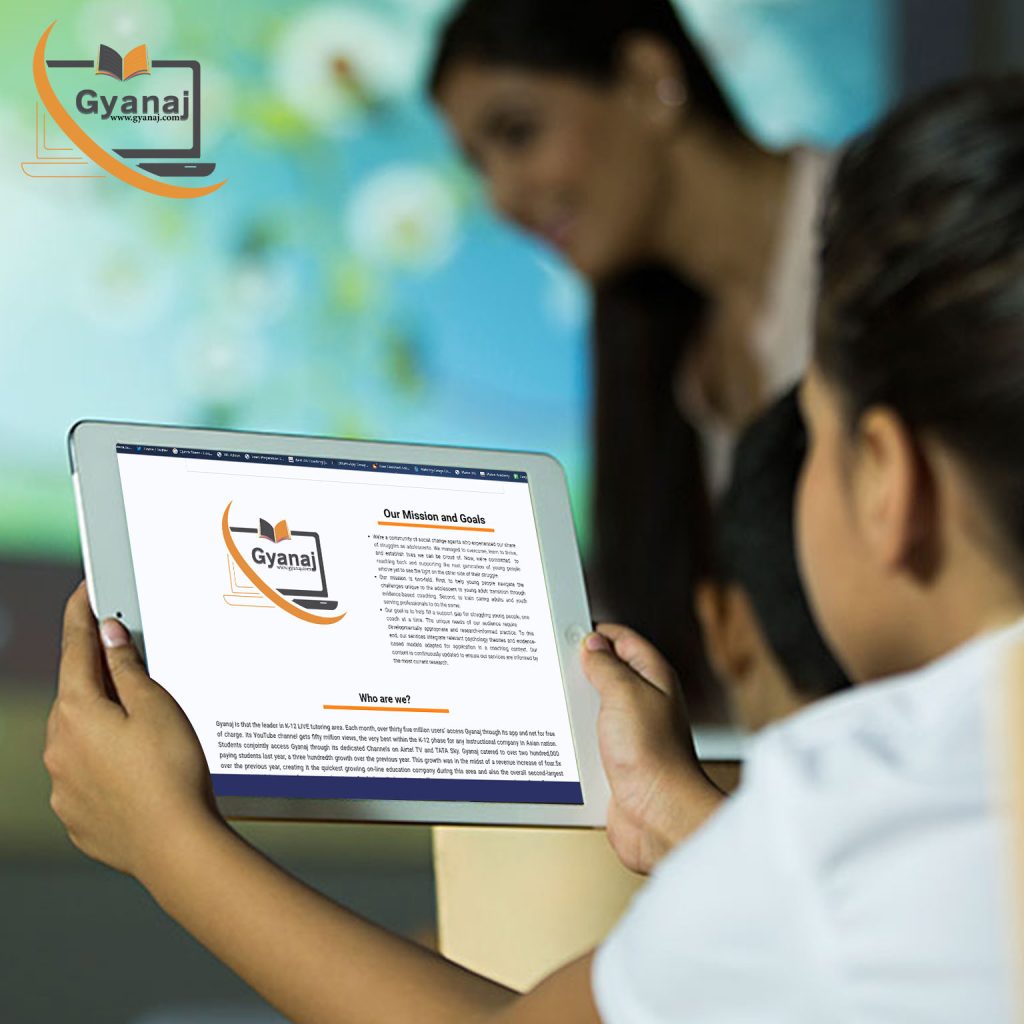 Students who enroll in Gyanaj can log in on their devices from wherever they are, enter their classrooms and start studying with the world's best online curriculum designed through research and interactions with millions of parents and students worldwide.
The learning management system of this world-class online Home Tuition is 100% safe, easy to use. And the classroom experience does not really require parents to sit with their child all through. Parents can check this anytime, how much time their child has spent on a particular topic, page, or module. And that is why they can monitor their child's progress closely.
Our courses include not just the core subjects and so much more, that all parents want their children to learn and get exposed to. Students don't have to join extra classes for other activities because now everything is on one platform. Students at Gyanaj come with aspirations to become astronauts, doctors, engineers, etc. And Gyanaj gives them the canvas to paint their dreams.
While the students keep their eyes on their individual paths to chase their goals, Virtual schooling gives them the platform, time, and flexibility to be academically sound and mentally strong. And there is no development fee, activities fee, or any such components that offline tuition charges.
Parents choose this futuristic virtual online home tuition because they don't want to burden their children for go outside for tuition at different places or anyone else home. When they choose Gyanaj, they are sure that they are choosing an excellent driven by the mission to craft the best possible future for their children.

To create a learner-friendly class that ensures and provides world-class quality of learning & teaching by providing a tuition environment that is personalized, learner-focused, flexible, and inspiring, thus motivating learners to excel in academics, career, interpersonal relationships, and life; and develop into individuals who are willing, able and matured to contribute towards sustainable development of self, others, society, and world.